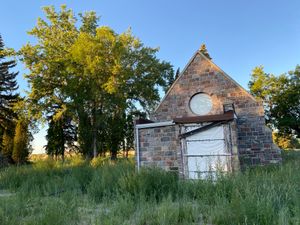 BIO
Jackie Kroczynski is a multitalented artist originally hailing from Saskatoon, known for her lifelong passion for music and storytelling. Since the age of four, Jackie has immersed herself in the world of piano, igniting a creative spark that continues to burn. She holds a Bachelor of Music in Music Education and has showcased her musical talents as both a performer and conductor in Concert and Jazz Bands across Western Canada and Europe. 
"…The stunning Look for The Little Things, a release that really cemented Jackie's place, in our eyes, as a shining light of the Canadiana movement"
-Tom Aldora, Aldora Britain Records, November 2022
Drawing inspiration from the prairies and its people, Jackie's music is infused with their spirit. Jackie has found her voice as a singer/songwriter, captivating audiences with her brilliant storytelling abilities. Her debut EP, "Look for the Little Things," released in November 2021, showcases her deep appreciation for nature through four delightful tracks. This "rootsy album", infused with Americana flavours, beautifully intertwines folk, country, and jazz influences, with Jackie's piano skills shining through, as well as the "brilliantly atmospheric production" from Sean Davis Newton of Riverdale Recorders (Edmonton). Notably, her visual artistry is showcased on the EP cover, reflecting her Bachelor of Arts in Visual Art from the University of Saskatchewan in 2014. 
With her distinctive sound and off-kilter charm, Jackie has garnered critical acclaim.  
"We think that we could have published this [Dandelions Everywhere] last Friday and said it was a cover of an obscure Lee Hazlewood or maybe Jimmy Webb song and most people would have accepted that. There's certainly something off-kilter about this upbeat folksong. There's a Seventies pop-optimism about it too that is quite infectious."  
- Jonathan Baird, Americana UK, April 8, 2022 
Jackie K's musical journey began with her proficiency in playing the piano and trumpet, performing in various concert and jazz bands in Saskatoon. She further honed her skills while studying music at the University of Saskatchewan. For many years, Jackie has dedicated herself to teaching music in both elementary and high schools in Saskatchewan, leading concert and jazz bands, choirs, and guitar classes. Her innovative use of the Orff method has brought the joy of jazz to young children. Jackie's passion for music education has taken her to renowned music destinations like New Orleans, Memphis, Nashville, Vancouver, San Francisco, Charleston, Toronto, and throughout Western Canada. 
The turning point in Jackie's career as a songwriter came during a transformative trip to Nashville in March 2020 when she led thirty students on a musical adventure. Inspired by the vibrant music scene and reflecting on her late father's love for traditional country music, she penned the moving track "Night at The Opry" from her EP. The song reached an impressive #4 on the Canadian Indie Top 100 Countdown in February 2021. 
"When we went to a show at the Opry, it really hit me how much my dad would have loved it there. He never had a chance to visit. We returned to Canada on March 10th and school was shut down for COVID a few days later. The song came all at once shortly thereafter. " - Jackie K 
In March 2023, Jackie released her latest album, "She's A Story," to coincide with International Women's Day. This remarkable album weaves together ten intriguing stories that celebrate the lives of women and the challenges they navigate. Across a diverse range of genres and styles, Jackie's music embraces each song's characters, ultimately fostering empathy within the listener. From a doo-wop throwback to a heartfelt tribute to her mother-in-law, and even a country duet with her husband, Jackie's storytelling prowess shines through. Notably, she dedicates the track "Honour Her Spark" to raising awareness for Missing and Murdered Indigenous Women and Girls, with all proceeds from the song benefiting the Battlefords and Area Sexual Assault Centre. Jackie is excited to have musician Falynn Baptiste provide spoken word in nêhiyawêwin to this track. Produced by Randy Woods from Saskatoon, SK, the album also features a songwriting collaboration from Tom Kroczynski and Tom O'Hara. 
"Throughout it all [She's A Story] she [Jackie K] proves a more-than-capable facility for writing great chord progressions and melodies, and some genuinely masterful choruses." 
Cups N Cakes - Pick of the Week, March 30, 2023 
In the words of critics, Jackie's songs resonate deeply by capturing universal experiences with authentic songwriting. One standout track, "Ready to Be Alone," serves as an empowering anthem for divorcees, highlighting Jackie's ability to connect with her audience on a personal level. 
Currently based in North Battleford, SK, Jackie's creativity has allowed her to travel many places, including a recent showcase at Your Roots Are Showing in Ireland with her husband Tom Kroczynski. Jackie is grateful for the support that she has received from FACTOR, Canada Council for the Arts, SK Arts and Creative Saskatchewan.
Jackie is very grateful for the support of the following agencies.